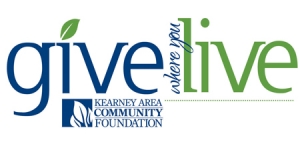 Thursday, December 1, 2016
Give Where You Live is a special fundraising event that will unite donors from all over to support nonprofits in the Kearney area and improve our quality of life. It is a community effort led by the Kearney Area Community Foundation that allows organizations like Crane River Theater to continually grow and find new donors.
Visit Crane River Theater at the Harmon Park Activity Center on Thursday, December 1st, between 8am-4pm to share your donation and receive a little something in return.
8am-10am – Free Donuts and Coffee
10am-12pm – Free Caramel Popcorn
12pm-2pm – Free Pizza and Drink
2pm-4pm – Free Cookies
Visit Crane River Theater at the Downtown Christmas Walk in the lobby of the Kaufmann Building at 22nd Street and Central Avenue from 5pm-8pm for Caroling and Hot Apple Cider.
---
We would like to thank all of you who participated in Give Where You Live in 2015. It was an amazing day that helped out so many nonprofit organizations in our area. Crane River Theater raised $18,125 from 191 individual donors. We received the second most donors for the day with a $1,000 prize, an awesome accomplishment thanks to all of you. Additionally, we received first place for the Mystery Donor Giving Destination Contest and second place for the Video Challenge. We are overwhelmed by the support and could not be more excited. Finally we would like to thank the Kearney Area Community Foundation for all that they do to improve the lives of people all around us.