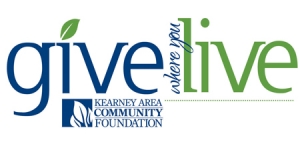 Thursday, December 7, 2017
Give Where You Live is a special fundraising event that will unite donors from all over to support nonprofits in the Kearney area and improve our quality of life. It is a community effort led by the Kearney Area Community Foundation that allows organizations like Crane River Theater to continually grow and find new donors.
Visit Crane River Theater at both Barista's Daily Grind locations on Thursday, December 7th, between 7am-7pm to share your donation and receive a free crane cookie!
Barista's Daily Grind
2301 13th Avenue
Kearney, NE 68845
Barista's Daily Grind
1502 2nd Avenue
Kearney, NE 68847
---
We would like to thank all of you who participated in Give Where You Live in 2016. It was an amazing day that helped out so many nonprofit organizations in our area. Crane River Theater raised $16,600 from 170 individual donors. We are overwhelmed by the support year after year and could not be more excited to continue to provide professional theatre productions and arts education programs in the coming years. Finally we would like to thank the Kearney Area Community Foundation for all that they do to improve the lives of people all around us.