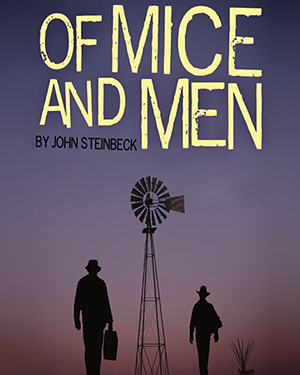 Available for Season Ticket Holders beginning August 8.
Available for General Public beginning August 15.
Mountain Rose Ranch
2446 Cottonmill Avenue, Kearney
September 19-21 • 7 pm
September 22 • 2 pm
Tickets: $20 General Admission
Tickets available for Season Ticket Holders beginning August 8.
Tickets available for General Public beginning August 15.
Based on the critically-acclaimed classic American novel by John Steinbeck, Of Mice and Men explores the ultimate meaning of friendship. Migrant ranch workers in California during the Great Depression, George, an intelligent but uneducated man, and Lennie, a large man with the mind of a child, dream of making enough money to buy a place of their own. Though they are different, they care deeply about each other. When a crime is accidentally committed, the two men are faced with a moral predicament. George must choose between protecting his friend or staying the course towards his version of the American dream. Tragic yet beautiful, Of Mice and Men is one of the most powerful and devastating stories of the 20th century. As part of our fall destination series that uniquely fits the production to the venue, this play will be presented in an authentic barn at Mountain Rose Ranch near Cottonmill Park in Kearney.
Frequently Asked Questions
How Do I Get to the Venue?
The Mountain Rose Ranch is located at 2446 Cottonmill Avenue, Kearney, NE, 68845. From Kearney, head west on Highway 30. Turn right (north) onto Cottonmill Avenue. The Ranch will be your first left after the canal. You'll see a big red horse arena – that's the place!
Where Do I Park?
We will have parking available on site. Please look for our parking attendants, who will direct you where to park your vehicle. We will also have golf carts available to shuttle you from your vehicle to the venue, if you need assistance.
What Type of Seating Will Be Available?
We will have chairs set up for seating for all performances. If you attended shows such as Doubt or Driving Miss Daisy, it will be the same chairs we used for those productions.
What Sort of Attire Should I Wear?
We recommend wearing comfortable attire that is appropriate for the weather. The performance will be indoors, but it may get a little cool toward the end of the evening. Also, the venue does have a dirt floor, and the parking lot is gravel, so we would recommend footwear that's comfortable for those surfaces.