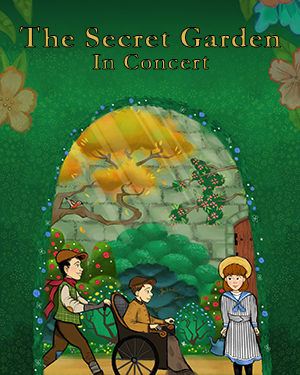 "Elegant, entrancing…The best American musical of the Broadway season."
"A splendid, intelligent musical."
"Revels in theatrical imagination and achieves the irresistible appeal that moves audiences to standing ovations."
"A many splendored children's fable that neither cloys or loses grip on its unique spell."
The Secret Garden In Concert
UNK Fine Arts Recital Hall
2506 12th Ave, Kearney, NE 68849
March 11 at 3 pm
March 12 at 7:30 pm
Adults: $20
Students (K-12): $10
Tickets available by calling 308.627.5796 or online.
Crane River Theater is thrilled to partner with the Kearney Symphony Orchestra for our concert production of The Secret Garden. An enchanting adaptation of a classic family novel, this acclaimed musical will inspire audience members of all ages. After being orphaned in India, 10 year-old Mary is returned to England to live with her melancholy uncle at his neglected estate. Haunted by the ghosts of her past and the secrets of her uncle, she innocently unlocks the forgotten gate to an untended garden on the estate grounds. From its soil, fertile with memory and "magic", springs hope and healing for them both.
Crane River Theater is excited to partner with the Kearney Symphony Orchestra as we continue our Concert Series this spring with The Secret Garden. Comprised of talented instrumentalists from communities across the region, we are honored to share this opportunity with a symphony that has served Central Nebraska for over a century. In our usual fashion, Crane River Theater will bring in performers from across the country and merge them with area artists to present a concert staging of this enchanting musical.
Mary Lennox – Calla Ripp
Colin Craven – Braeden Wall
Archibald Craven – Brian Jenkins
Dr. Neville Craven – Levi Lawson
Lily – Amanda Kidder
Martha – Deanna Mazdra
Dickon – Asa Souksahn
Mrs. Medlock – Peg Sinnard
Ben Weatherstaff – Rick Marlatt
Captain Albert Lennox – Jeff Ensz
Rose Lennox – Senja Stephens
Alice – Angie Benitz
Lieutenant Wright – Seth Mavigliano
Lieutenant Shaw – Ben Hill
Major Shelley – Kyle Laboria
Mrs. Shelley – Donna Bisbee
Major Holmes – Travis Brock
Claire Holmes – Kathy Bokenkamp
Dreamer Ensemble – Andrea Ripp
Dreamer Ensemble – Eric Wood
Director – Brad Driml
Musical Director – Brian Botsford
Stage Manager – Jaime Mendenhall
Sound Technician – Aaron Hynds
Conductor – Brian Botsford
Piano – Seungwon Lee
Flute – Erin Van Hal
Oboe – TBA
Clarinet – Aaron Borer
Trumpet – Logan Hansen
Trombone – Aaron Lawson
French Horn – Corey Urbanek
Violin I – Connie Moon
Violin II – Gina Lieb
Viola – Rochelle Hazelton
Cello – Karla Carrillo
Bass – Dave Klein
Percussion – Cameron Scheibe