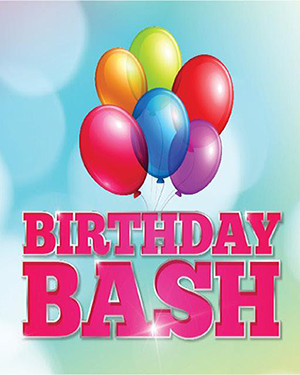 Crane River Theater's 10th Birthday Bash!
January 31, 2018
6:00-8:00pm
The World Theatre
Tickets: $20
Tickets available online, or by calling 308-627-5796.
Let's Party! It's the 10th Anniversary of Crane River Theater and you're invited! Join us for a celebratory event to launch our 10th season of productions. This evening will feature a sneak peek into the season ahead, a look back at shows of the past, hors d'ouvres, cake, and a complimentary champagne toast. It is a night you don't want to miss! We'll also be honoring an outstanding individual, business, and organization with our annual Taking Flight Awards. If you've ever attended a Crane River production, come share your memories and find out what's in store for the year to come!
2019 Taking Flight Award Winners
| | Individuals Taking Flight | Businesses Taking Flight | Organizations Taking Flight |
| --- | --- | --- | --- |
| 2019 | Bill & Trish Kenagy | Apache Camper Center | UNK Music, Theatre & Dance |
Past Taking Flight Award Winners
| | Individuals Taking Flight | Businesses Taking Flight | Organizations Taking Flight |
| --- | --- | --- | --- |
| 2018 | Roger & Lynda Francis and Paul & Peggy Braden | Kearney Hub, NTV, KGFW, and KRVN | The Archway |
| 2017 | The Jahn Family | Kearney Floral | Kearney Area Children's Museum |
| 2016 | Ken and Sharon Barth | Kearney Rental Pros and Vertical Focus Realty | Kiwanis Clubs of Kearney |
| 2015 | Mel and Arlene Shoemaker | Yanda's Music & Pro Audio | Kearney Area Community Foundation |
| 2014 | Norman and Lorraine Heiden | Best Western Inn and Suites | Kearney Park and Recreation |