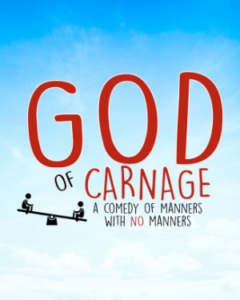 "[It] delivers the cathartic release of watching other people's marriages go boom. This play is… satisfyingly primitive entertainment."
"Elegant, acerbic and entertainingly fueled on pure bile. It's Reza's sharpest work since 'Art'."
"A fierce little domestic farce."
Available for Season Ticket Holders April 7.
Available for General Public April 14.
The World Theatre
2318 Central Avenue • Kearney, Nebraska
June 2-4 • 7 pm
June 5 • 2 pm
Adults $20
Students $10
Tickets available online or by calling 308-627-5796.
Season Tickets available beginning April 7.
General Public Tickets available beginning April 14.
Don't miss this award-winning Broadway sensation! The New Yorker calls it "ninety minutes of sustained mayhem", Entertainment Weekly says it is "a magnificently constructed play", and the New York Times hails it as "first-class". Winner of the 2009 Tony Award for Best Play, God of Carnage tells the story of two sets of parents, who are brought together after their sons get into a fight on the playground. At first, diplomatic niceties are observed, but as the meeting progresses, and the rum flows, tensions emerge and the gloves come off. God of Carnage gives audiences an inside look as the two couples quickly turn a rational discussion into a childish evening of name-calling, tears, and tantrums. It's a comedy of manners (without the manners), that will have you laughing out loud.
Share