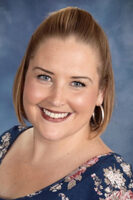 Ashley grew up in Kearney and graduated from University of Nebraska at Kearney in 2008 with a Bachelors of Arts in Education.  Currently, she is in her 14th year as the Choral Director for Holdrege High Schools where she directs the High School Mixed Chorus, Women's Choir, Varsity Concert Choir, Show Choirs and various small ensembles.  In addition, she is also the High School Musical Director, Director for the Spring Play and serves on the Holdrege Education Association Executive and Negotiations Team.  Ashley is also a member of the Nebraska Music Educators Association Board of Directors where she serves as the Director of Advocacy.
Outside of the classroom, Ashley is a frequent performer and Musical Director for Crane River Theater in Kearney.  She has served as MD for many shows including: Suessical, Shrek, The Wizard of Oz, Tarzan, Grease, Footloose, and Mamma Mia.  Some of her performance credits include: Mrs. Mayor in Suessical, Kala in Tarzan, Glinda in The Wizard of Oz, and Rosie in Mamma Mia.
Ashley and her husband, Travis, are both active on the Holdrege Fire Department and reside in Holdrege with their 5 rescue pets: Luke, Layla, Salem, Sabrina and Prince.   They also own The Crystal Leaf and Serenity Studios in downtown Holdrege where Ashley teaches music lessons in voice and piano and also offers a variety of music classes for her community.  In her free time, Ashley enjoys traveling, writing music, riding horses, camping and being outside.