Crane River Theater is established around the belief that lifting up the arts will only help in creating richer and more vibrant communities. Our mission is to serve the community of Kearney and surrounding areas as a professional theater company providing a home for the presentation, education, and promotion of the arts. Crane River Theater is proud to collaborate with countless organizations in our area to host an array of special events each year, thereby exposing many new people to the joy of the arts.  Stay informed of all upcoming productions, programs and events by following us on Facebook, Twitter and Instagram.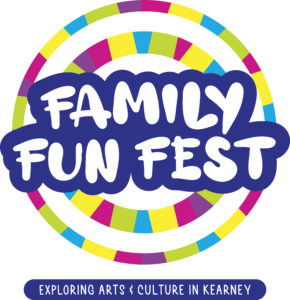 Crane River Theater, in partnership with the Kearney Cultural Partners, is excited to be a part of Family Fun Fest 2023! The event will take place at Harmon Park on Sunday, September 10th from 1-4pm.
It's a day of free family fun, filled with music, art, theater, dance, culture, and more! Kids can step into a giant bubble, run the obstacle course, meet Disney Princesses, take part in a Shinja, Zumba or Yoga workshop, step inside a fire truck, create balloon animals, jump in the bounce houses, and visit all of our interactive stations. Families can also enjoy special live performances featuring Edgerton Explorit Center, Garan Coons – Native American Dancer, and more!
Kearney Cultural Partners is a coalition of more than twenty non-profit organizations dedicated to educating and promoting arts and culture in our area. Members include Crane River Theater, Nebraska Firefighters Museum, Kearney Public Library, Merryman Performing Arts Center, Museum of Nebraska Art, Kearney Community Theatre, Kearney Concert Association, The Archway, Kearney Symphony Orchestra, World Theatre, UNK Theatre and Dance, Trails and Rails Museum/Buffalo County Historical Society, Classic Car Collection, Kearney Area Children's Museum, G.W. Frank Museum, Audubon's Rowe Sanctuary, Kearney Area Arts Council, Kearney YMCA, Prairie Art Brothers, Kearney Creates, Kearney Artists Guild, and Downtown Kearney.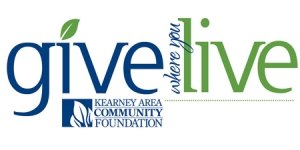 Give Where You Live is a special fundraising event that will unite donors from all over to support nonprofits in the Kearney area and improve our quality of life. It is a community effort led by the Kearney Area Community Foundation that allows organizations like Crane River Theater to continually grow and find new donors. 
Give Where You Live will take place on December 1st, 2022. You can find more information HERE.
I Spy… Arts and Culture in Kearney!
Visit locations. Spy clues. Solve the phrase. Enter to win prizes!
Take a tour around Kearney, SPY clues, and solve the mystery phrase! Visit participating locations and spy the letter in their window (you will not have to go inside locations). Match the letter to the corresponding logo to solve the phrase. Stay tuned for upcoming dates for this event.