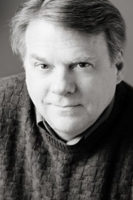 Robin McKercher (Director /Scenic Artist & Designer/Actor/Professor), a native of Nebraska, started his theatrical career as an actor in six different national tours with the Nebraska Theatre Caravan. Moving to New York City, Robin performed in two Lori McKelvey musicals, A Life Like No Other with Kim Cosby & Trey Wilson and Berkeley Square. He was also a member of the United Scenic Artists Local 829 where he painted backdrops for 37 Broadway productions and served as the charge artist on the Tony award-winning design of The Secret Garden (Heidi Landesman [Ettinger], designer), Beauty and the Beast, Aspects of Love, Grand Hotel and Tommy to name just a few. Numerous television and feature movie credits include "The Late Show with David Letterman", "Kate and Allie", "To Wong Foo…", "Brighton Beach Memoirs", "Hannah and Her Sisters" and "Radio Days." He also painted for The American Ballet Theatre at Lincoln Center, Paul Taylor Dance Company and Dennis Cunningham Dance Company. 
After earning his Master of Fine Arts in Directing from UNL, Robin directed the original productions of Romantic Rhapsody, A Salute to Pearl Harbor, and Civil War Voices at the Lied Center. He served as associate artistic director of the Nebraska Repertory Theatre directing Starting Here… Starting Now and Pterodactyls. For the Nebraska Theatre Caravan, Robin garnered national and international attention for his innovative production of A Thousand Cranes, which has toured eight times from Alaska to Florida. He served as artistic director for the Lincoln Playhouse from 1996 to 2003. Favorite shows he directed include West Side Story, Tommy, Children of Eden and The Civil War. In 2002, Robin received the Sam Davidson Award for excellence in theatre arts at the Lincoln Mayor's Arts Awards. 
Moving back to the East Coast in 2003, he designed My Way and directed Ragtime (2004 Footsie Award for Best Director & Best Musical in Pennsylvania), Seussical (named by Lynn Ahrens and Stephen Flaherty as the quintessential version of their show), Love Letters, the world premiere of the musical Around the World in 80 Days and Glorious! for the Fulton Theatre, an Equity LORT C theatre in Lancaster, PA. Additionally, he designed Gypsy, George M!, Seven Brides for Seven Brothers, Show Boat, and The Sound of Music (Arizona's 2005 Zoni Award nomination) for Prather Productions. Robin directed Local Wonders based on works of National Poet Laureate Ted Kooser for the Nebraska Repertory Theatre. Robin has been the theatre departmental co-chair at Doane University since 2005.  Professor McKercher teaches Acting, Directing, and Theatre History plus directs the majority of the mainstage season winning Outstanding Director seven times from the Kennedy Center American College Theatre Festival. He just received great acclaim for his modern and timely dystopian adaptation of Alfred Jarry's Ubu the King.
Robin had the great pleasure to get back up on the boards and perform in the world premiere of Catherland by the amazing Becky Key Boesen and David von Kampen. Recently he performed in the one-man play based on the best-selling book The Things They Carried about the Vietnam experience at the Lied Center listed as one of the top tier productions spanning two decades by the Lincoln Journal Star. To date Robin has worked as a director/designer/actor/scenic artist on well over 475 professional productions.