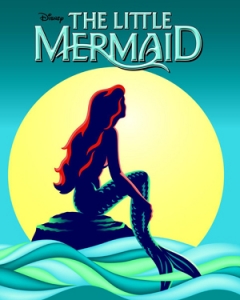 "…lifts our spirits and renews our faith that theater for 'children' can be enjoyed by everyone."
"A lovable, fun production…"
"Just gorgeous – full of Disney magic!"
"A musical that does justice to the lovely film from which it sprang."
Disney's The Little Mermaid
Cope Amphitheater at Yanney Heritage Park
June 22-July 3 at 7 p.m.
Adults – $5
Kids 10 and under – $1
Admission sales begin at 5:30pm for each performance.
Dive under the sea to hear the story of Ariel – a young mermaid whose only wish is to live on land. After falling in love with a handsome prince, Ariel does everything she can to gain a pair of legs, including making a deal with Ursula the Sea Witch. With the help of her friends, Flounder the fish, Sebastian the crab, and Scuttle the seagull, Ariel must earn the love of Prince Eric in three days before losing her soul to the witch! Based on the beloved story by Hans Christian Andersen, and the classic animated film, Disney's The Little Mermaid is sure to delight families with its exciting underwater world!
Crane River Theater is excited to return to the Cope Amphitheater in Yanney Heritage Park for our production of Disney's The Little Mermaid. It is just one portion of Kearney's newest public park with a thirteen acre lake, formal gardens, water park and observation tower. The amphitheater features a large stage and available seating for two thousand people, making it the perfect location to bring the rich tradition of open air, outdoor family theater to Central Nebraska.
Special support provided by the Theodore G. Baldwin Foundation and the Arram Family Foundation.