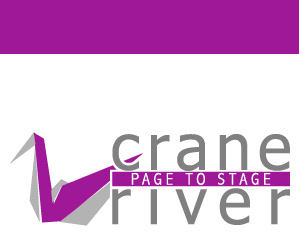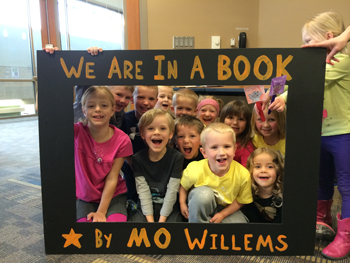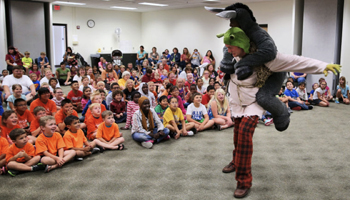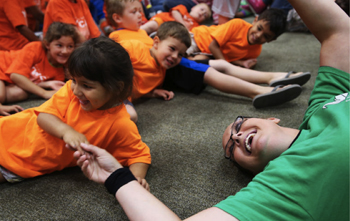 The arts bring us joy in every aspect of our lives. Crane River Theater wishes to be an outlet for that artistic expression. Our mission is to serve the communities of Central Nebraska as a professional theater company providing a home for the presentation, education and promotion of the arts. We are excited to bring professional artists from across the country, allowing Central Nebraska to become a destination for theater, music and dance.  
Crane River Theater is thrilled to offer our Page to Stage workshop for the ninth year to libraries across Nebraska for their Summer Reading Programs. Encouraging the creativity of our youth is essential. Kids of all ages can relate to the universal appeal of theater. Page to Stage focuses on taking a well-known storybook and bringing it to life with the hopes to inspire imaginations and instill a love for the arts. Allowing children the opportunity to see characters jump from the page to the stage in this hour-long interactive performance is invaluable.  
Crane River Theater presents Page to Stage to thousands of youth each summer and is excited to reach out to even more communities in the years to come. We are proud to have been recognized by the Central Nebraska Literacy Council with a "Celebrate Literacy Award", as well as a Governor's Arts Award as "Emerging Leaders in the Arts". Igniting excitement in the arts at such a young age will help to ensure a strong future for arts involvement in the entire community.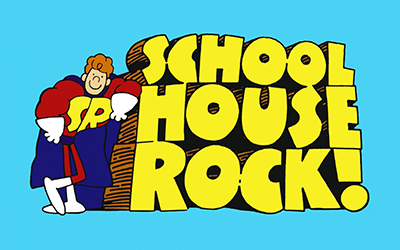 SUMMER 2020
This summer, Crane River Theater is moving Page to Stage online to better serve libraries during this challenging time of social distancing. We are offering a VIRTUAL program that will bring to life the songs and stories of School House Rock! For the first time, we will be recording a high-quality video of our Page to Stage program, using song and dance to engage and interact with children right through the camera. We are aware that many libraries are moving their programs online for the summer, so we are hoping this will prove to be a valuable resource.  
Crane River Theater is offering this virtual opportunity to first time libraries for just $200. When you purchase the virtual Page to Stage program, we will provide you with a password that allows the youth in your community to access the video online. Please contact our Education Director, Seth Mavigliano, at 308-627-5796 or Info@cranerivertheater.org for more information.
2020 Summer Schedule
Broken Bow Public Library
Video Access Available
June 10-June 17
Contact 308-872-2927 or kblackburn@cityofbrokenbow.org for Complimentary Password
Central City Public Library
Video Access Available
June 24-July 1
Contact cc.youthlibrarian.ne@gmail.com for Complimentary Password
Columbus Public Library
Video Access Available
July 14
Log into your Summer Reading Beanstack Account for Complimentary Password
Crete Public Library
Video Access Available
June 10-July 1
Contact 402-826-3809 or librarystaff@crete.ne.gov for Complimentary Password
Grand Island Public Library
Video Access Available
June 15-19
Contact 308-385-5333 or celines@gilibrary.org for Complimentary Password
Hastings Public Library
Video Access Available
June 12-July 1
Contact 402-461-2346 or khruska@hastingslibrary.us for Complimentary Password
Hildreth Public Library
Video Access Available
June 18 at 11am and 7pm
Contact 308-470-1414 or hildrethlibrary@gmail.com
for Complimentary Password
Holdrege Public Library
Video Access Available
June 22-26
Contact childrens@holdregelibrary.org for Complimentary Password
Jensen Memorial Library (Minden)
Video Access Available
June 10-July 1
Contact 308-832-2648 or library@mindennebraska.org for Complimentary Password
Kearney Public Library
Video Access Available
June 10-July 1
Contact slindner@kearneygov.org for Complimentary Password
Lexington Public Library
Video Access Available
June 10-June 30
Contact 308-324-2151 or lzitterkopf@cityoflex.com for Complimentary Password
O'Neill Public Library
Video Access Available
June 10-July 1
Contact 402-336-3110 for Complimentary Password
Raymond A. Whitwer Tilden Public Library
Video Access Available
June 10-July 1
Contact 402-368-5306 for Complimentary Password
Wahoo Public Library
Video Access Available
June 10-July 1
Contact 402-433-3871 or carrie@wahoo.ne.us for Complimentary Password