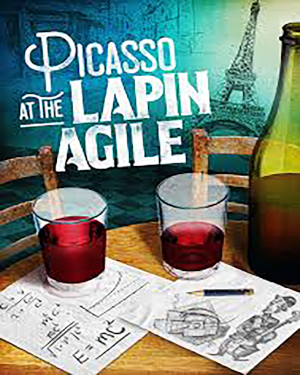 Picasso at the Lapin Agile
Summer 2019
UNK Miriam Drake Theatre

Comedian Steve Martin's extraordinary play, Picasso at the Lapin Agile, is a crowd-pleasing hit that is sure to have you laughing out loud. Envision a small watering hole in Paris at the turn of the century. In walks a struggling artist, Pablo Picasso, and a would-be genius, Albert Einstein. What ensues is two legendary men, whose egos are as big as their intellects, sparring with each other about art, science, inspiration, love, and the promise of the 20th century. Throw into this mix a mysterious visitor with a penchant for blue suede shoes, and you're in for a brilliant and witty evening in the theatre. In his first comedy for the stage, Steve Martin excels with goofy wordplay and convention flouting twists that make you feel like a kid discovering new toys. The result is crisp humor, contemplative characters and a wholly imaginative story that will keep you interested from beginning to end. Cubism and Relativity have never been funnier.
Picasso at the Lapin Agile is produced in partnership with University of Nebraska Kearney Music, Theatre & Dance.
Special support provided by the Theodore G. Baldwin Foundation and the Arram Family Foundation.
Share