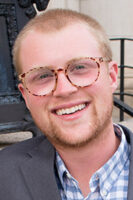 Zach is stoked to be joining this cooky cast of characters in his 3rd Crane River Theater production. His previous Crane River Theater credits include Curly in Of Mice and Men and James Keller in The Miracle Worker. Zach is a Kearney native who is currently studying Elementary Education at UNK. Previously Zach has worked as an Assistant Teaching Artists at the Children's Theater Company in Minneapolis, MN, and was an active member of the Kearney High Theater Program where he played roles such as Prince Charming and the Big Bad Wolf in Into the Woods and Melteades in KHS' state performance of Requiem Atlantis.
Zach is excited to be sharing the stage with old friends and his lovely new bride Kayli Deloach!
Please enjoy the show and make sure to laugh out loud!