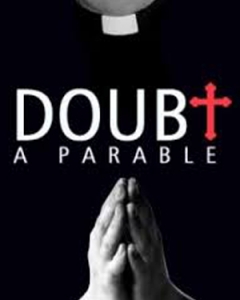 "…a gripping story of suspicion…"
"…a lean, potent drama…passionate, exquisite, important and engrossing."
"A beautifully balanced drama."
"An eloquent and provocative investigation of truth and consequences."
Merryman Performing Arts Center
225 West 22nd Street • Kearney, Nebraska
June 8-10 • 7 pm
June 11 • 2 pm
Tickets: $20
Tickets available for Season Ticket Holders on April 24
Tickets available for General Public on May 1
*Tickets available by calling 308-627-5796 or clicking the "Buy Tickets" button on this page.
Set in the unstable landscape of the 1960s, Doubt is the story of a young, progressive priest in the Bronx, who is accused of inappropriate relations with a student. Sister Aloysius, the school principal, is faced with the task of taking matters of justice into her own hands. The two are locked in a battle of wills, balancing on the fine line between truth and consequences. A powerful and potent drama, this Pulitzer Prize winning play dives into the question of moral certainty, and leaves audiences questioning whether the characters really made the right decisions.
Crane River Theater's production of Doubt will be performed at the Merryman Performing Arts Center with the audience seated on stage just a few feet away from the actors. With seating for one hundred people, this intimate venue provides the perfect setting for audience members to connect to this dramatic and compelling story. Fully equipped with state of the art sound and lighting, Crane River Theater is eager to once again partner with the Merryman for our play series which continues to grow in popularity.
Special support provided by the Theodore G. Baldwin Foundation and the Arram Family Foundation.