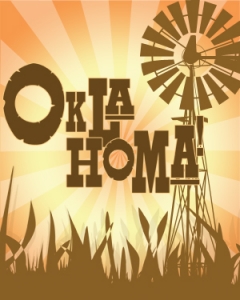 "A beautiful and delightful show, fresh and imaginative. It has practically everything."
"Oklahoma is a show you cain't say no to!"
"Songs, dances and a story that have been perfectly blended. Rodgers and Hammerstein have outdone themselves."
"One of the finest musical scores ever written!"
"Oklahoma really is different – beautifully different."
Merryman Performing Arts Center
225 W. 22nd Street, Kearney, NE 68845
July 28-30 & August 2-6 • 7 pm
July 30 & August 7 • 2 pm
Adults: $20, $24, $28
Students: $18, $22, $26
Sixty years ago, Oklahoma revolutionized musical theatre into the art form it is today. Rodgers & Hammerstein's first collaboration remains, in many ways, their most innovative. Set in a Western Indian territory just after the turn of the century, the high-spirited rivalry between the local farmers and cowboys provides the colorful background against which Curly, a handsome cowboy, and Laurey, a winsome farm girl, play out their love story. Although the road to true love never runs smooth, with these two headstrong romantics holding the reins, love's journey is as bumpy as a surrey ride down a country road. That they will succeed in making a new life together we have no doubt, and that this new life will begin in a brand-new state provides the ultimate climax to the triumphant Oklahoma!
The Merryman Performing Arts Center, a state of the art theater that houses many professional touring productions throughout the year, will serve as the home for Crane River Theater's production of Oklahoma! More than five million dollars was raised to create this outstanding 750-seat venue, which opened its doors in October of 2006. Crane River Theater is proud to join forces with the artistic team at the Merryman once again and for many years to come.
Special support provided by the Nebraska Arts Council, Humanities Nebraska, Arram Family Foundation, Theodore G. Baldwin Foundation, Cooper Foundation, and Kearney Area Community Foundation.
Share