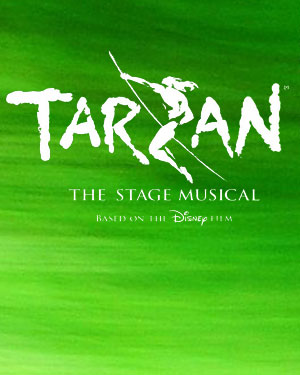 "You are going to be amazed! Every song is full of energy, emotion and passion."
"Tarzan is a swinging heap of fun! A spectacular, kinetic theatrical event. You will want to jump up and down for joy!"
"The story magically comes to life and draws you into its jungle from the first moment. A must see for audiences of all ages!"
Cope Amphitheater at Yanney Park

Summer 2015
Familiar to families over several generations, Tarzan tells the story of an infant boy orphaned in a shipwreck on the shores of West Africa. Taken in and raised by a tribe of gorillas, the young boy strives for acceptance by his ape father while grappling with his own uniqueness. He becomes a man, thriving in this primitive environment, until the arrival of a hunting expedition and his realization of the world beyond his jungle home. Based on the smash-hit Disney animated film, Tarzan features Grammy and Oscar winning music by pop icon Phil Collins and is suitable for audiences of all ages.
Crane River Theater is excited to return to the Cope Amphitheater in Yanney Heritage Park for our production of Tarzan. It is just one portion of Kearney's newest public park with a thirteen acre lake, formal gardens, water park and observation tower. The amphitheater features a large stage and available seating for two thousand people, making it the perfect location to bring the rich tradition of open air, outdoor family theater to Kearney.
In association with our production of Tarzan, Crane River Theater is proud to partner with Alia Arram Children's Museum, Cub Scouts, Nebraska Game and Parks, Cabela's and NebraskaLand National Bank to offer additional opportunities for youth in our area. Be sure to check out these exciting events by clicking the links below.
Share