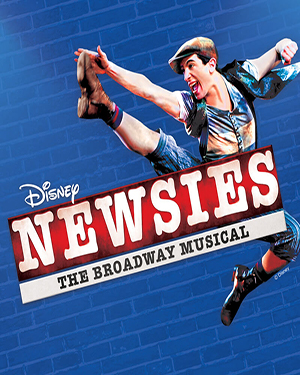 "Stop the presses! Disney has produced a winning, high-energy musical perfect for family audiences!"
"A cheerfully old-fashioned mix of a stirring story with a catchy score."
"Rousing songs, high-energy dance numbers, an appealing cast and an uplifting story make this one of Disney's most entertaining new properties in years… Newsies adheres to a time-honored Disney tradition of inspirational storytelling in the best possible sense."
"Newsies delivers with wit and heart, stick-in-your-head melodies and dazzlingly athletic choreography."
Merryman Performing Arts Center
225 W. 22nd Street, Kearney, NE 68845
July 26 • 7 pm
July 27 • 2pm & 7 pm
July 28 • 2pm
July 30-August 3 • 7 pm
August 4 • 2 pm
Adults: $25, $30, $35
Students (K-12): $15, $20, $25
*Tickets available by calling 308-627-5796 or clicking the "Buy Tickets" button on this page.
It's time to carry the banner on your stage with Disney's Newsies! Set in turn-of-the century New York City, Newsies is the rousing tale of Jack Kelly, a charismatic newsboy and leader of a band of teenaged "newsies." When titans of publishing raise distribution prices at the newsboys' expense, Jack rallies newsies from across the city to strike against the unfair conditions and fight for what's right! Based on the 1992 motion picture and inspired by a true story, Newsies features a Tony Award-winning score by Alan Menken and Jack Feldman and a funny, heartfelt book by Harvey Fierstein. Featuring the classic songs "Carrying the Banner," "Seize the Day," and "Santa Fe," Newsies is packed with non-stop thrills and a timeless message, perfect for the whole family and every audience.
The Merryman Performing Arts Center, a state of the art theater that houses many professional touring productions throughout the year, will serve as the home for Crane River Theater's production of Annie. More than five million dollars was raised to create this outstanding 750-seat venue, which opened its doors in October of 2006. Crane River Theater is proud to join forces with the artistic team at the Merryman once again and for many years to come.
Special support provided by the Theodore G. Baldwin Foundation and the Arram Family Foundation.