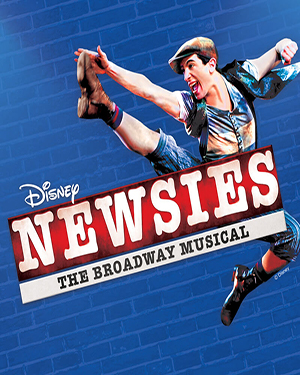 "Stop the presses! Disney has produced a winning, high-energy musical perfect for family audiences!"
"A cheerfully old-fashioned mix of a stirring story with a catchy score."
"Rousing songs, high-energy dance numbers, an appealing cast and an uplifting story make this one of Disney's most entertaining new properties in years… Newsies adheres to a time-honored Disney tradition of inspirational storytelling in the best possible sense."
"Newsies delivers with wit and heart, stick-in-your-head melodies and dazzlingly athletic choreography."
Available for Season Ticket Holders beginning June 14.
Available for General Public beginning June 21.
In Partnership with UNK Music, Theatre & Dance
UNK Miriam Drake Theatre
2506 12th Avenue, Kearney, NE 68849
July 25 -27 • 7 pm
July 27 & 28 • 2pm
July 30-August 3 • 7 pm
August 4 • 2 pm
Adults: $25, $30, $35
Students (K-12): $15, $20, $25
Tickets available online, or by calling 308-627-5796.
Tickets available for Season Ticket Holders beginning June 14.
Tickets available for General Public beginning June 21.
New York City, 1899. Jack Kelly and his ragtag team of newsboys make a meager living selling newspapers on the city streets. But when the prices of "papes" are hiked and the newsies are hung out to dry, there is nothing left to do but "open the gates and seize the day!" Led by charismatic Jack and independent newspaper reporter Katherine Plummer, the newsies form a union and organize a strike against the greedy publisher of the New York World. Can a group of idealistic newsboys win against a foe as powerful as acclaimed publisher Joseph Pulitzer? Based on the 1992 motion picture and inspired by the true story of the 1899 Newsboys Strike, Newsies is an ebullient, joyful, and entertaining musical capturing the strength that young people have when they join together and stand up against injustice. It features a heartfelt story and stunning music, including the show-stopping "Seize the Day," "Carrying the Banner," and "Santa Fe." Newsies is packed with non-stop thrills and a timeless message, perfect for the whole family.
Special support provided by the Theodore G. Baldwin Foundation and the Arram Family Foundation.