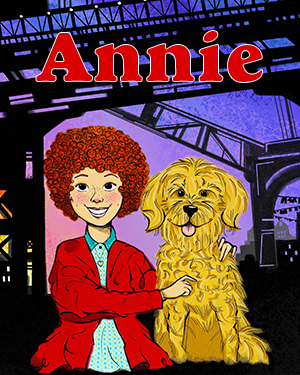 "An intensely likable musical! …It has a rare kind of gutsy charm"
"Spectacular on every count…. A sudden reversion to the concept of fun."
"At the heart of musical comedy; big warm-hearted, funny and overflowing!"
Summer 2018
Merryman Performing Arts Center

Leaping Lizards! The Tony Award winning musical Annie is coming to Kearney! Based on the popular comic strip by Harold Gray, this beloved story features some of the greatest musical theatre hits ever written. With equal measures of pluck and positivity, little orphan Annie is sure to charm everyone's hearts in this true rags-to-riches journey. She is determined to find the parents who abandoned her years ago on the doorstep of a New York City Orphanage that is run by the cruel Miss Hannigan. With the help of the other girls in the Orphanage, Annie escapes to the wondrous world of NYC. In adventure after fun-filled adventure, she eventually finds a new home and family in billionaire Oliver Warbucks, and a lovable mutt named Sandy.
The Merryman Performing Arts Center, a state of the art theater that houses many professional touring productions throughout the year, will serve as the home for Crane River Theater's production of Annie. More than five million dollars was raised to create this outstanding 750-seat venue, which opened its doors in October of 2006. Crane River Theater is proud to join forces with the artistic team at the Merryman once again and for many years to come.
Special support provided by the Theodore G. Baldwin Foundation and the Arram Family Foundation.
Share